Chandelier BAU300x400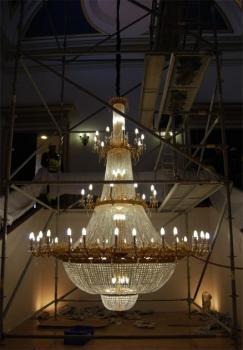 view larger image
LAMPARAS BAU300X400
Gold Leaf Effect
Diameter 300 cm
Height 400 cm
lights 90

The chandelier has a diameter of 300 cm and a height of 400 cm. 
This chandelier is lit by 90 bulbs and is made of 
Cast Bronze
The chandelier, according to the purity of style is wearing 
more than 20,000 pieces of Murano glass. 
The finish of the lamp is indeed arisen Gold Leaf 
follow the color with the rest of finishes that accompany 
place at the chandelier.

Lites by Design, Crystal chandeliers. Telefono (+34) 696 939 852. E-mail:
export@lites-by-design.com
C. Virazon, 84-D - Poligono Industrial Los Vientos - 46019 - Náquera - Valencia, Spain.
The sizes indicated do not include the chain and the canopy. All our chandeliers are proudly made in Spain.